The White Rose Alliance schools are located around North Yorkshire and Leeds. The area is easily accessible from all parts of the country with the A1 (only 3 miles from King James´s School) and its links to other major roads at the heart of our alliance.
There are good road links between all partner schools and our Higher Education partners.   
King James´s School is also accessible by train with Knaresborough being on the well serviced Leeds-Harrogate-York line.
The schools´ locations are ideally situated for access to city life (shopping, restaurants, entertainments, etc), historical market towns, sporting facilities, family attractions, outstanding countryside (including two national parks), the east coast, quality housing & schools.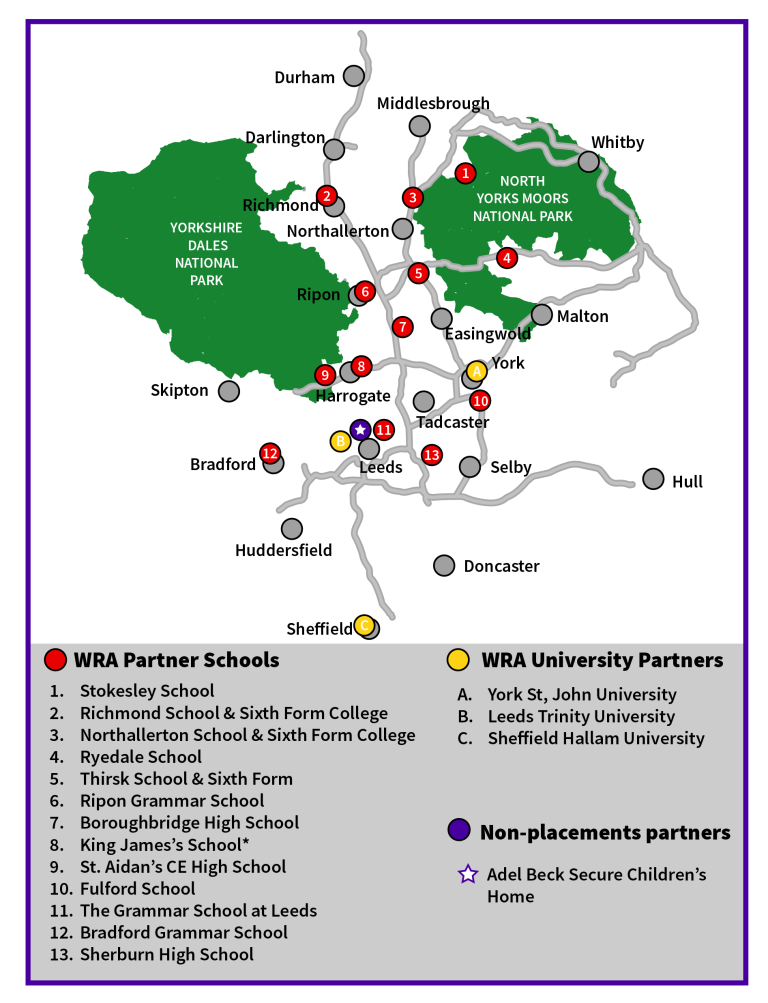 The schools who work in partnership in the White Rose Alliance offer a rich and diverse range of school contexts. Our partner schools are:
King James´s School, Knaresborough (WRA Lead School)
Boroughbridge High School
Bradford Grammar School
Fulford School
The Grammar School at Leeds
Ripon Grammar School
Richmond School & Sixth Form College
Ryedale School
Sherburn High School
St Aidan's CE High School 
Stokesley School, Stokesley
Thirsk School & Sixth Form College, Thirsk
Adel Beck Secure Children´s Home*

Read more about the schools and what they bring to the White Rose Alliance on the other pages in this section. 
In addition to our formal partners listed above, we also have links with other schools in Yorkshire who kindly support our programme by accommodating placements for our trainees when the need arises.
For 2023/24 courses the White Rose Alliance will be working in partnership with the following Higher Education institutions: Sheffield Hallam University, York St John University & Leeds Trinity University. Click here for more information.
* Adel Beck is a non-placement partner sharing specialist expertise & providing visit experiences for our trainees.